Sectigo SSL Order Form
HostGator is teaming up with Sectigo to offer you a range of SSL certificates to secure your online transactions and protect you and your customers. Sectigo certificates feature 2048-bit signatures and up to 256-bit encryption to ensure sensitive information can be sent and received with confidence - and Sectigo stands behind their products with warranties of up to $1,750,000!
You can order Sectigo SSL certificates through HostGator's SSL Order Form and follow the instructions in the following article:
This article will provide a walkthrough of the order form.
---
Initial Ordering Information
These first steps gather basic information about the type of Sectigo SSL certificate you wish to order and the domain and package to install it to.
Which package would you like to purchase an SSL for?
This step automatically displays all of your current HostGator packages - just select the one you want to protect!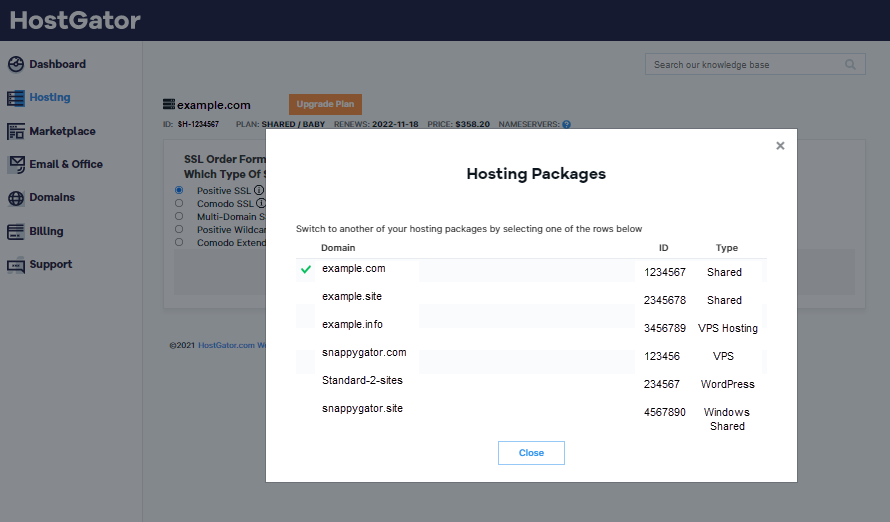 Which type of SSL Certificate do you want?
HostGator offers several types of Sectigo SSL certificates, from the basic Positive to the extra-trusted Sectigo Extended Validation.
The basic Positive SSL offers secure connections for a low rate.
The Sectigo SSL is our best value, with a $250,000 warranty level to give you peace of mind.
The Positive Wildcard SSL secures your primary domain like a typical SSL certificate but can also protect multiple subdomains.
The Sectigo Extended Validation SSL provides the highest level of confidence for your site's visitors - backed by Sectigo's highest warranty!
Clicking the information icon will provide more information on each type of certificate.

Learn more about the different types of SSL certificates that HostGator offers through the following article:
Which domain would you like to install your SSL Certificate on?
You can choose which of your domains will be covered by this SSL. Only one domain on a Shared hosting can have a Positive SSL certificate installed.

While Sectigo's Positive Wildcard SSL can cover multiple subdomains of your primary domain, Multi-Domain SSL can protect 3 of your domains! List the domain names you want to protect with SSL.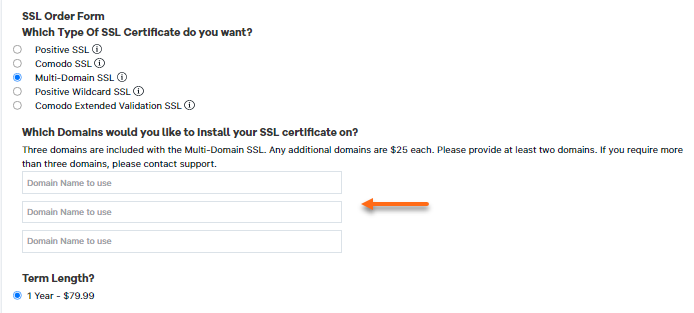 How long would you like to purchase this SSL for? (Term Length)
At this time, the term length of SSL is one year. Your certificate will secure your site for as long as you require, and when it expires, the certificate can be reissued to your domain.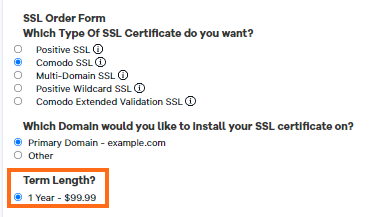 ---
Contact and Certificate Information
The information in the next steps will be used by Sectigo both to verify your purchase and create your certificate, so it is very important that this information is correct and matches the WHOIS information for your domain.
Contact Information
This section should be completed fully and correctly. For faster validation, HostGator or our SSL Partners may contact you by phone to verify your order and issue your certificate as quickly as possible.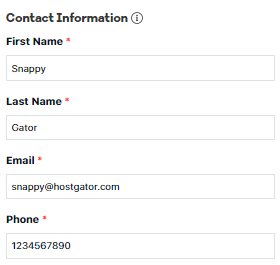 Certificate Information
The information you enter in the Certificate Information section is incorporated into your Sectigo SSL certificate itself. All Sectigo SSL certificates require this information to be accurate. The Sectigo Extended SSL (also known as the "green bar" SSL for the color it displays in your visitor's browser) uses it to verify your business details for that extra level of trust for your site.
To make it easier for you, checking the box Same as contact information will automatically populate the Certificate Information contact fields with the identical information you placed in the Contact Information step.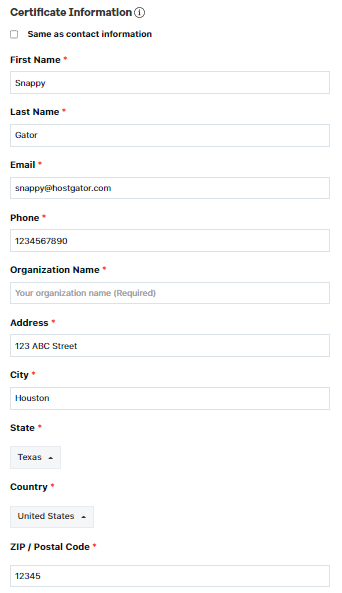 ---
Finalizing your Order
The last steps to complete your Sectigo SSL certificate order are to select the boxes acknowledging that this is a non-refundable charge and that you have read and agree to the Sectigo Subscriber Agreement.

Order SSL
Click Order SSL to place your Sectigo SSL certificate order. Your HostGator account will be invoiced for only the amount you authorized, and your Sectigo verification process will begin as soon as you click.