Google Ads

Linux Shared web hosting clients now get a $100 Google Ads advertising credit added to their Ads account after spending $25 on Google Advertising.
Terms and conditions apply. The $100 Google Ads credit is applied to your account after spending  $25 according to the terms and conditions ⤵ below.
Eligibility
New Ads Accounts Only: If you have a previous Google Ads account, you are not eligible for the promotional code offered by HostGator. Per the terms and conditions, the promotional code is only valid for clients with a new account created via the HostGator link. The best way to ensure you can use the $100 credit with Google is to sign up through our link and apply it right away.
Linux Shared Web Hosting: This Google Ads credit offer is limited to users who have purchased accounts from HostGator on shared servers running Linux. Eligible packages include Hatchling, Baby, Business, Hatchling Cloud, Baby Cloud, Business Cloud, and all Reseller levels.
U.S. and Canada: This offer is currently available to Linux Shared hosting customers in the U.S. and Canada who have not already signed up for Google Ads. Linux Shared hosting includes the Hatchling, Baby, and Business plans. This offer is not yet available to Resellers, VPS, Windows hosting, or Dedicated clients. You must purchase and pay for $25 in Google Advertising to receive the $100 credit.
India: A similar offer is available to customers located in India with a Linux Shared hosting plan who have not already signed up for Google Ads. Instead of a $100 credit, you receive an Rs 2,500 credit. Please email adwords@hostgator.com to receive more information about how to claim this credit. You must purchase and pay for Rs 500 in Google Advertising to receive the Rs 2,500 credit.
Other Countries: This offer is not currently available in other countries.
HostGator and Google have teamed up to provide this offer; however, Google administers the Google Ads program itself, including which countries it is available in. We've recently added India to the list of countries that can redeem Ads credits (although they have a slightly different offer), and we hope to add more countries in the future.
---
Terms and Conditions
Offer subject to change. Full details on the offer are available on the signup form.
U.S. & Canada Offer Terms and Conditions
Promotional credit must be applied to a new Ads account within 15 days of creating the account and is valid only for new Google Ads customers with self-managed signup accounts after spending $25. Advertisers will be charged for advertising that exceeds the promotional credit. Advertisers will need to suspend their ads if they do not wish to receive additional charges beyond the initial credit amount. Subject to ad approval, valid registration, and acceptance of the Google Ads Program standard terms and conditions. The promotional credit is non-transferable and may not be sold or bartered. Offer may be revoked at any time for any reason by Google Inc. One promotional credit per customer. Advertisers with self-managed signup accounts are subject to a $5 activation fee. Offer valid only for sign-ups through the URL provided for the promotion by customers with billing addresses in the U.S. or Canada. Void where restricted or prohibited by law. For the complete terms and conditions, see https://www.google.com/ads/coupons/terms/.
India Offer Terms and Conditions
In order to activate this offer, you need to enter the promotional code through the Billing tab in your account before the offer expires. Promotional codes have no promotional value, and entry of the promotional code serves only to begin your qualification for the associated promotional credit. To qualify for the promotional credit, you must accrue advertising charges of INR 500 within 31 days of entering your promotional code. For example, if you enter the code on the 1st day of any month, you'll have the next 31 days to accrue advertising charges of INR 500. In all circumstances, you must enter your promotional code before the 31st day (from the day the coupon code was entered) to activate this offer. Your account must be successfully billed by Ads and remain in good standing to qualify for a promotional credit. The promotional credit will be applied within approximately 5 days of your account, reaching the threshold for accrued advertising charges specified above, as long as you've activated your account using the promotional code and fulfilled all requirements stated in the offer. Once applied, the promotional credit will appear on the Billing summary page in your account. 
---
Where to Find the Promotional Code
The offer is available in cPanel to U.S. and Canadian customers; you can locate the code either within your Customer Portal or cPanel.
Customer Portal
Log in to your Customer Portal.
Click on the Hosting tab.
Under Special Offers, click on the Google Ads Credits icon.
cPanel
When logged into cPanel, click on the Google Ads - Free $100 Credit* under Special Offers to get the promotional code and a link on where to sign up.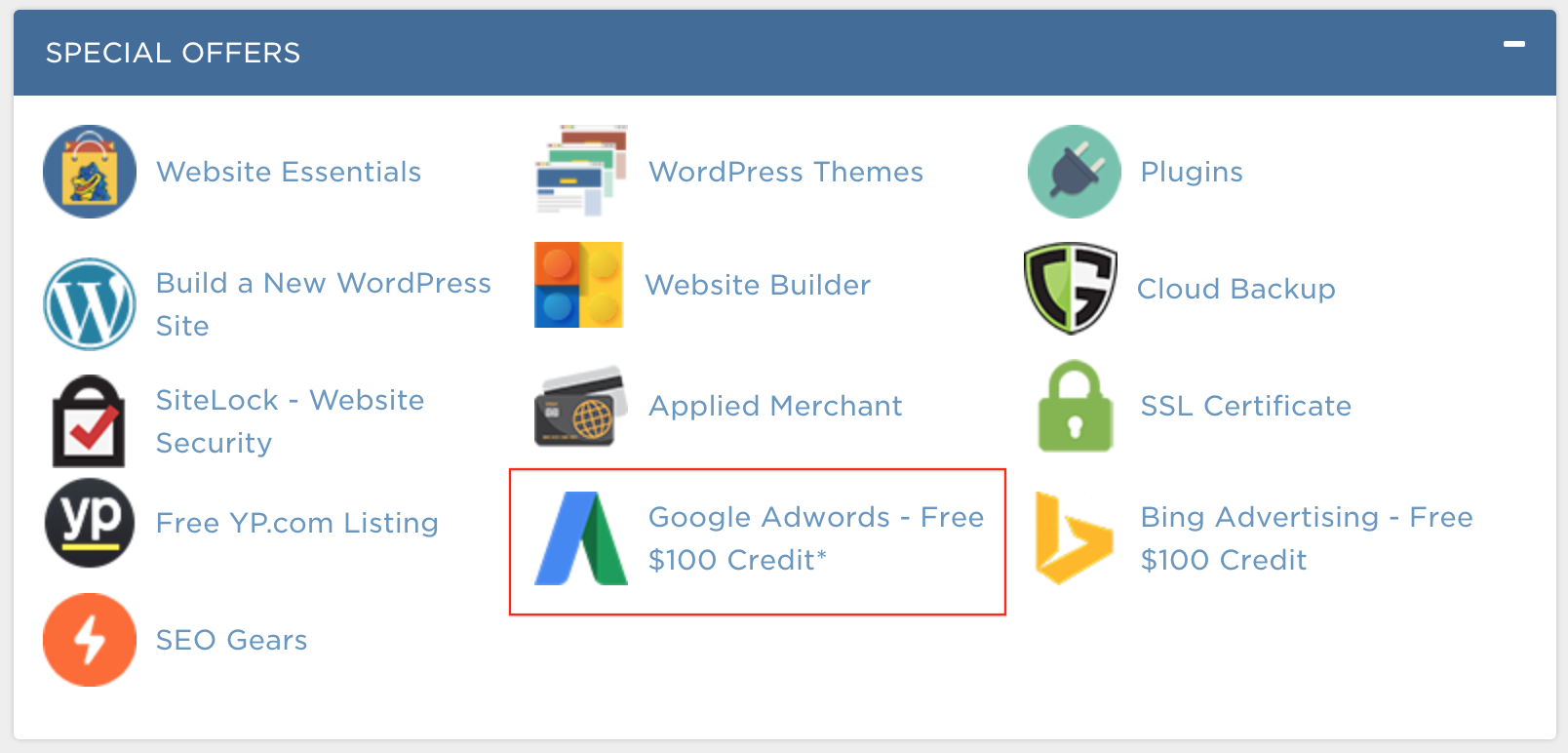 If you are eligible for the Ads promotion but are having issues obtaining the code, please contact us via
phone
or
Live Chat
to request your Ads code.
---
How to Redeem the Offer
How to apply the voucher:
Copy the promotional code from within your HostGator cPanel.
Go to My Account.
Select Billing Preferences.
Scroll down to Promotional Codes - optional and paste the promotional code.
Click Redeem.